×
Contact
Get in touch
We look forward to discussing with you how we can best support you.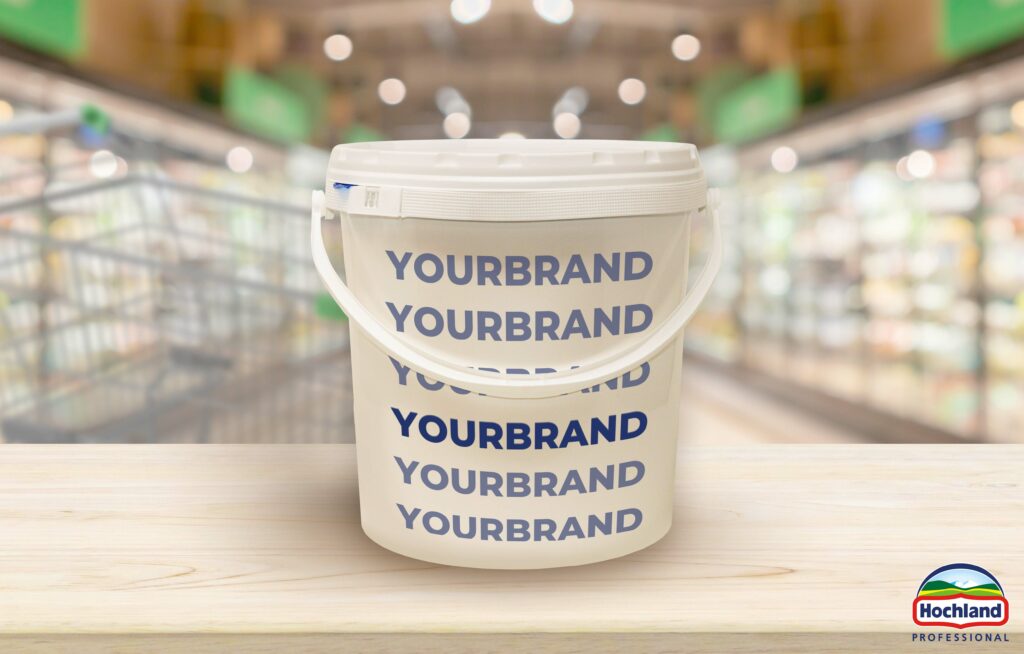 Cream Cheese – BUCKET
2kg, 3.5kg, 5kg & 10kg
Our bucket of cream cheese is unique in taste and of outstanding quality. For its fresh and delicious taste as well as its perfect consistency our product is going to be used for manifold applications, e.g. bakery products, delicious cheese cakes, soups, sauces, sandwiches, pasta & risotto, for fillings, gratins, dressings & dips, crèmes, desserts, ice & sweets, puddings and more – a real must have for industry and gastronomy.
Cream Cheese – BUCKET, 2kg
Fat in dry matter
65 %
Weight per unit
2 kg
Pack format
bucket
Delivery unit
4 buckets
per carton
Carton net
8 kg/ bucket
Cartons/ pallet
49 cartons
Container/ 40 ft reefer
12.1 tons net (floor loading)
9.0 tons net (pallet loading)
Shelf life
120 days at + 2°C to + 8°C
no preservatives
Cream Cheese – BUCKET, 3.5kg
Fat in dry matter
53 %
Weight per unit
3.5 kg
Pack format
bucket
Delivery unit
2 buckets
per carton
Carton net
7 kg/ bucket
Cartons/ pallet
49 cartons
Container/ 40 ft reefer
10.6 tons net (floor loading)
7.9 tons net (pallet loading)
Shelf life
180 days at + 2°C to + 8°C
no preservatives
Cream Cheese – BUCKET, 5kg
Fat in dry matter
65 %
Weight per unit
5 kg
Pack format
bucket
Delivery unit
not packed into a case
Carton net
5 kg/ bucket
Cartons/ pallet
60 buckets
Container/ 40 ft reefer
8.3 tons net (floor loading)
6.9 tons net (pallet loading)
Shelf life
365 days at + 2°C to + 8°C
no preservatives
Cream Cheese – BUCKET, 10kg
Fat in dry matter
70 %
Weight per unit
10 kg
Pack format
bucket
Delivery unit
not packed into a case
Carton net
10 kg/ bucket
Cartons/ pallet
39 buckets
Container/ 40 ft reefer
15.8 tons net (floor loading)
9.0 tons net (pallet loading)
Shelf life
365 days at + 2°C to + 8°C
no preservatives